Satellite Client

Used by the doctor's office, clinic, etc. to extract patient data from a recorder or flash card, and upload it automatically to the Server.

When the analysis is complete, the Client software will automatically download the analyzed patient data from the Server back to the doctor's computer.

Uses existing PC with Windows XP Home or Pro that is connected to the internet.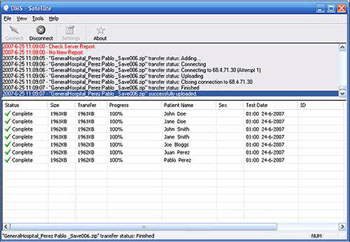 Advantages for Remote User (Physician, Hospital, Clinic):

Same-day Holter ECG processing and report printing

Multi-day Holter recordings (up to 8 days)

Cardiac event ECG's for up to 30 days

Visual verification of T-Wave amplitude changes for T-Wave Alternans (
link
)

Atrial Fibrillation management monitoring (
link
)

Sleep Apnea (
link
)

Heart Rate Variability

SAECG Late Potentials

Transient elongated QTc (
link
)

3-Lead and 12-Lead ST (
link
)

No need for a trained Holter scanning specialist

EMR database provided

Auto E-Mail and PDF outputs
Advantages for Holter Expert ECG Station