Cardiac Rehab-CardioVision
Hospital Patient ECG Monitoring
or
Cardiac Rehabilitation Monitoring
With Auto-Holter Updates Each Minute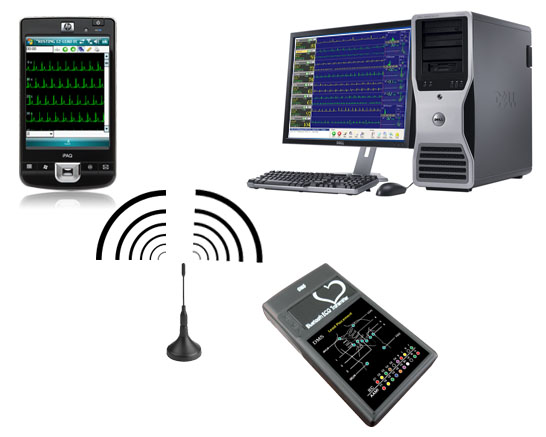 Patient wears a WiFi Transmitter.

WiFi Transmitter is a small lightweight unit that uses standard re-chargeable AA batteries.

Change batteries once each 24-hours.

Commercial AP (Access Points) simply plug into the standard wall power to give virtually unlimited transmission range.

Patient uses 3 or 4 electrodes for a 3-Lead ECG.

PC Central Monitor receives the WiFi transmissions from each patient, and the system simultaneously performs real-time ECG with analysis far exceeding current patient monitoring ECG systems.

Holter analysis is performed at the end of each minute.

All Alarms are auto transmitted to the nurse's or doctor's PDA to immediately see ECG Alarms when away from PC Central Station. PDA also acts as a bedside monitor for each of the 8-patients.

A remote cardiologist can immediately access the real-time or Holter ECG from his/her office or home. The comprehensive Holter displays will provide the doctor with more meaningful ECG data than ever made available by any other ECG monitoring systems.